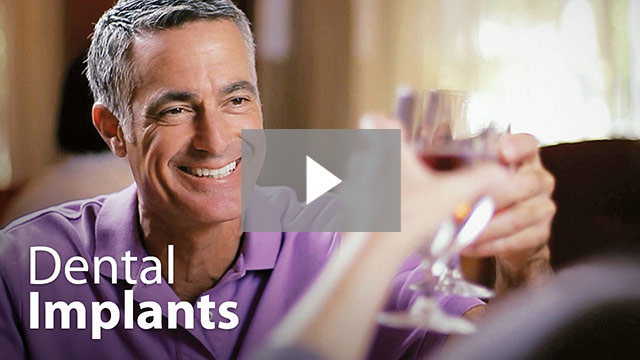 Dentures and bridges are the most common ways of replacing missing teeth. However, they are not the only ones. Dental implants are an excellent alternative for patients looking for a strong and permanent method for replacing teeth.
What are dental implants?
Dental implants are replacement teeth made of two parts. First is the titanium root. The shape of the root is similar to that of a screw. It is placed into the jawbone, and once it is there, the bone bonds with it, helping it firm up into place.
This root is the support for the tooth element, called a crown. The crown is attached to the root once it is firm in place, and from there, the artificial tooth works just as well as healthy natural teeth.
Who Are Candidates for Dental Implants?
Patients cannot know if they are candidates for dental implants until they come in for an evaluation. There are certain criteria that need to be present for someone to be a candidate for dental implants. These are more than simply having one or more missing teeth. The criteria are as follows:
A jaw that is healthy and has the bone density needed to support the implants
Gums that are healthy enough to hold the implants in place
Quality overall dental health, without active diseases or infections
If a patient does not meet these criteria, this does not mean they can never have dental implants. However, they will need to undergo interventions to get ready for implants. This can range from bone grafts to treating gum disease.
What Is the Dental Implant Process Like?
The way the process goes can vary form patient to patient. In general, a post will be installed and then a temporary tooth will be worn until the post if fused to the bone. This usually takes four to six months. After that time passes, the temporary tooth is removed and the permanent one is placed.
To find out if you are a candidate for dental implants, schedule a consultation.
Related Videos
---
---
Related Dental Implant Articles
Dental Implants – Your Best Option For Replacing Teeth
Dental implants have many advantages over older methods of tooth replacement like bridges and dentures — from the way they function and feel to the way they look and last. Vigorous research has documented and confirmed that in the right situations, dental implant success rates are around 95%. It is no exaggeration to say that they have revolutionized dentistry. They may even change your life… Read Article
The Hidden Consequences of Losing Teeth
For those missing even one tooth, an unsightly gap is actually the least significant problem. What's of far greater concern is the bone loss that inevitably follows tooth loss. Dental implants fused to the jawbone can preserve bone, improve function and enhance psychological well-being. Learn how implants serve both as anchors to support replacement teeth, and preserve bone as one of the better preventive maintenance procedures in dentistry… Read Article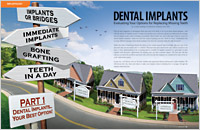 Dental Implants — Evaluating Your Options for Replacing Missing Teeth
As we guide you through the marketing hype you'll see that well planned implants most often require a team approach in assessing whether they're right for you. Not only are they a better treatment choice, they will last longer, possibly a lifetime, making them the right choice and the most cost effective option long term… Read Article
Implant Overdentures for the Lower Jaw
Implant overdentures represent a major change for the dental profession and the public. The lower jaw two-implant overdenture may be considered a more appropriate starting point over regular dentures… Read Article