What is All-on-4®?
All-on-4 is a full-arch teeth replacement system that includes both dental implants and a fixed prosthesis. This system can replace either or both arches.
All on 4 (5, 6, 7 or 8) implants are a set of titanium metal posts or screws that will be surgically implanted into the patient's jawbone under the gums. Once they are fully fastened and have healed correctly, these will serve as the base for the new replacement teeth.
Overall, a prostheses on 4 or more implants will not only return your bright smile, but will also allow you to live your life normally as if you never lost your teeth. Furthermore, it looks and function like normal teeth. After a brief adjustment period, you will resume your normal eating and speaking.
Related Videos
---
---
Related Denture Articles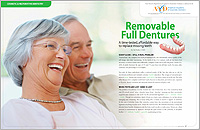 Removable Full Dentures
Complete tooth loss can cause a host of health problems, including malnutrition and bone loss. Though fixed bridgework may hold a higher place of reverence when it comes to replacing an entire set of teeth, removable full dentures can provide an elegant solution that is significantly more affordable… Read Article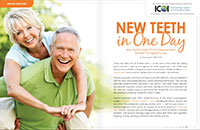 New Teeth in One Day — How Dental Implant Tooth Replacements Reverse the Aging Process
Implant-supported teeth look and function just like real teeth, and are maintained with the same oral hygiene practices, such as brushing and flossing. They provide important health benefits (described in this article). And while dental implants are relatively expensive, a newer procedure that also provides functional teeth on the same day implant surgery is performed has brought the cost down and put this beneficial technology within reach of many… Read Article
Implant Overdentures for the Lower Jaw
Implant overdentures represent a major change for the dental profession and the public. The lower jaw two-implant overdenture may be considered a more appropriate starting point over regular dentures… Read Article