Smile Makeover-Cosmetic Dentistry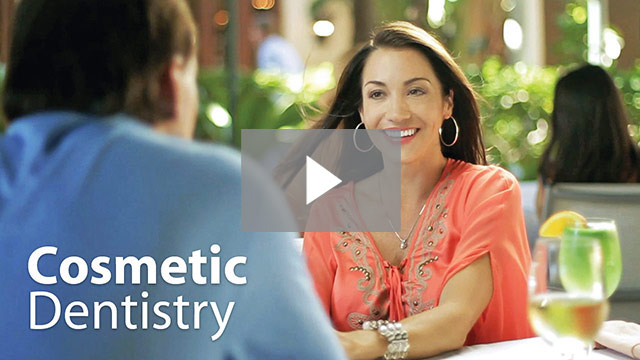 Sometimes teeth are perfectly functional but do not look their best. For those in this situation, cosmetic dentistry is the solution. Cosmetic dentistry techniques improve the aesthetics of teeth, and in some cases, can also address issues with function.
What Is a Smile Makeover?
The goal of a smile makeover is to give the patient a smile that looks great and complements their overall appearance. This means taking into account their general facial appearance, skin tone, hair color, and all aspects of the teeth, gums, and lips.
Smile makeovers are customized based on the needs and wants of the patients. The patient sits down with the doctor and discusses what issues they are concerned about and the doctor will offer a variety of solutions. Together, they will settle on the choices that best meet their wants, needs, and budget.
What Can a Smile Makeover Correct?
There is a lot that cosmetic dentistry can address, including:
Tooth discoloration
Alignment
Spacing
Missing teeth
Cracked teeth
Tooth length
Tooth proportions
Ultimately, if you have a concern about the appearance of your teeth, we will have a way to address it. To learn what your smile makeover plan will be, schedule a consultation.
---
Related Cosmetic Dentistry Articles
Cosmetic Dentistry – A Time For Change
We are living in an exciting era in dentistry. Today more than ever before, the healing arts are able to provide cosmetic change to meet the public's ever-increasing expectations. Join Dear Doctor magazine as we review the myriad of possibilities available to you for cosmetic dental change… Read Article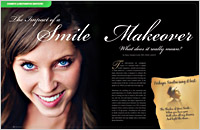 The Impact of a Smile Makeover
Americans are catching on to the emotional and social importance of a healthy, beautiful smile, and they're seeking out ways to improve their smiles. Learn why, and what a smile makeover could mean for you… Read Article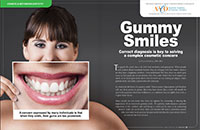 Gummy Smiles
Many people are not aware that there are options for correcting or altering the appearance of an excessively gummy smile. If a gummy smile impacts a person's enjoyment of life, comfort, and well-being, it could just be time to do something about it. And a lot can be done… Read Article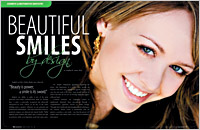 Beautiful Smiles by Design
There's more to the art and science of designing a more appealing smile than you might realize. One of the country's foremost leaders in cosmetic dentistry discusses how you and your dentist can partner to create a great new look… Read Article
How And Why Teeth Wear
Are teeth supposed to last for a lifetime? And are humans designed to live for up to a hundred years? Given all the current improvements in the areas of medicine and health, both general and oral, people are not only living longer, but they are also keeping their teeth longer. This article will provide an overview of the "oral system" and one of its more common and important occurrences, tooth wear… Read Article